ODC vs Dedicated team: Cooperation Models Comparison
OFFSHORE SOFTWARE DEVELOPMENT SERVICESSOFTWARE DEVELOPMENT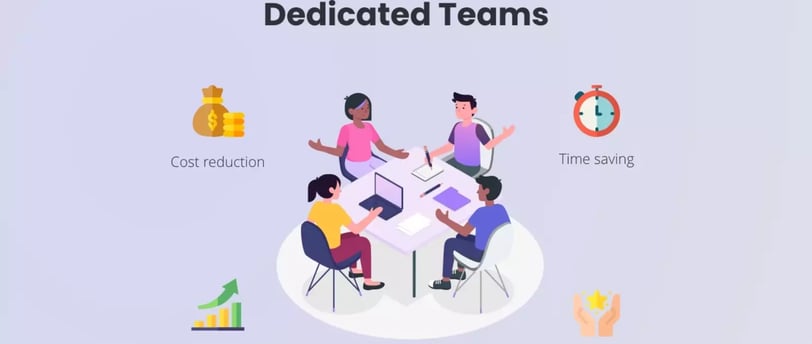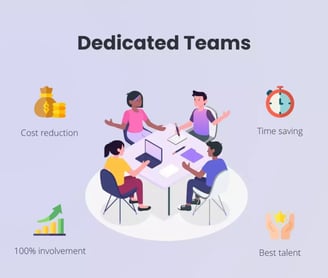 In the fast-paced and technology-driven business world of today, the demand for skilled developers is higher than ever. The ability to augment your team with top tech talent is crucial for staying ahead of the competition and managing multiple development projects simultaneously.
However, local hiring can be expensive and time-consuming, often resulting in significant costs that equal several months' worth of salaries just to onboard a new hire. It's no wonder that outsourcing appears to be an attractive solution.
There are different models of cooperation to consider, with setting up an offshore software development center and hiring a dedicated team being the prominent options.
Let's explore both alternatives to determine the best approach for outsourcing your next project.
What is a Dedicated Team?
Imagine a scenario where you have a team of skilled developers, each possessing specific skills tailored to your requirements. Each team member is solely devoted to you and your company's needs. This is essentially what a dedicated team entails. In this case, the outsourcing provider also takes care of equipment, specialized software, office space, benefit payments, taxes, and pension payouts for each team member.
Explaining the Dedicated Team Model: Pros and Cons The dedicated team model is an effective collaboration method designed for continuous improvement and production support within a company. Its main advantages can be summarized as follows:
Control over the process: This approach enables companies to lead the selection process and choose resources for their projects based on their specific needs. It ensures transparency, control over the development process, and guarantees the quality of the final product.

Reduced risk and intellectual property protection: By aligning the outsourced workforce with the company's structure in the long term, the risk of losing critical data due to team configuration changes is minimized. Additionally, service providers ensure information integrity by securing collaboration through NDA agreements and similar measures.

Scalability and flexibility: This delivery model allows organizations to scale their development team up or down according to business priorities. It enables companies to offload in-house specialists during peak periods and then downsize the team as necessary.
What is an Offshore Development Center?
An offshore development center (ODC) is a physical office established by companies to expand their current business structure and facilitate product development. ODCs are typically set up in countries with a large talent pool, favorable economic conditions, and a good price-quality ratio.
Pros and Cons of the ODC Model Offshore development centers are currently gaining popularity for several reasons. This business practice offers numerous benefits, including:
Reduced development cost: Cost-effective software development stems from two factors. Firstly, ODCs establish their equipment and infrastructure in developing countries with lower costs for offices, electricity, internet, etc. Secondly, the hourly rates of remote developers in ODC locations are significantly lower compared to high-paying destinations like the USA or Canada.

Access to a large pool of IT talent: The offshore development center model provides access to seasoned IT teams with proven technical competency, skills, and experience. Outsourcing providers prioritize professional training, ensuring that the outsourced team can deliver optimal solutions to clients.

No startup and infrastructure costs: Adopting an ODC model does not require initial expenses for workspace or infrastructure if you choose to open the ODC on the vendor's premises. You simply need to find a reputable service provider and onboard new hires to boost productivity. This makes it suitable for companies of all sizes and types.
ODC vs. Dedicated Team: A Comparison Both offshore development centers and dedicated teams unlock the benefits of outsourcing. However, if you're comparing the two options, there are similarities and differences to consider:
What's common?
Suitable for long-term projects: Both models are well-suited for projects with long-term commitments. Developers are typically allocated full-time with extended assignment durations.

Undivided attention to your project: With both approaches, the team is dedicated to working exclusively with your project without dividing their time among multiple organizations.

Tailored team formation: During the selection process, companies can specify formal criteria for each specialist. The outsourcing provider then recruits top candidates for each team position based on these requirements.
What's different?
Varying team sizes: While a dedicated team may consist of a few specialists, offshore development centers usually have a larger crew of 10 or more members. The ODC model can be thought of as a representative office in another country.

Differences in team structure: Team composition is another distinguishing factor that affects the final decision. An ODC team may include both technical specialists and administrative personnel, such as HRs and Project Managers. In the dedicated team approach, administrative tasks need to be handled internally.

Distinct access systems: If you prefer a secluded workspace with an exclusive access system for your team, the ODC model would be more appealing. Dedicated teams typically operate from the vendor's office, but you can request a separate data control system if needed.
The Bottom Line Offshore development centers and dedicated teams have become integral to modern business practices. Both outsourcing models offer access to high-quality talent and the opportunity to augment in-house capacity with niche or rare skills. Successful collaborations with either approach lead to the long-term development of remote operations.
Although they share many benefits, there are differences to consider, such as team size, organizational structure, and data control systems. With this knowledge, you are better equipped to choose the right path for your outsourcing needs.